Animated Christmas Bible Verse Gif for Facebook, Twitter, messengers and sharing with family and friends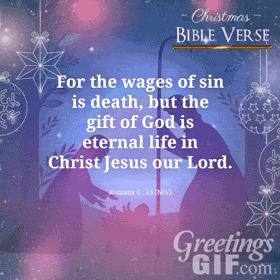 Bible Verse Gif
Wishing You and Your Loved Ones A Blessed Christmas and A Joyful New Year !
Whether you like to say Merry Christmas, Happy Christmas, Happy Holidays, Season's Greetings or any other specific way, we sure wish you and your loved ones a great time of togetherness, fun and enjoyment.

Wishing you all a Blessed Christmas Holidays and a bright start to the New Year !

Animated Christmas Bible Verse Gif for Whatsapp, Facebook, Twitter, Instagram, and other messengers
More Related Post Links Below:

1. Merry Christmas GIF with Christmas Tree and Santa
2. Merry Christmas and Happy New Year GIF
3. Merry Christmas GIF with Silent Night Jingle