Animated Feliz Navidad Gif – Merry Christmas in Spanish Gif for Facebook, Twitter, messengers and sharing with family and friends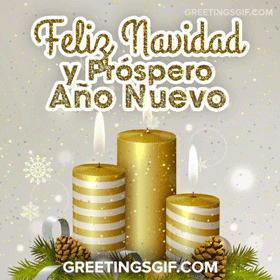 Wish your Spanish speaking family and friends Merry Christmas with this Feliz Navidad Gif. Merry Christmas in Spanish Gif for Download and sharing on personal messengers.

Feliz Navidad !
Merry Christmas and A Happy New Year !
Happy Holidays !
Feliz Navidad y Prospero Ano Nuevo
Christmas is celebrated on the 25th December every year to mark the birth of Jesus Christ. Although, Christmas is considered a religious festival, people from all religions and backgrounds like to celebrate this day with family feasts, partying and enjoying time with family and friends. Christmas for many also marks the end of year holidays and festivities and preparing to welcome the New Year.
Whether you like to say Merry Christmas, Happy Christmas, Happy Holidays, Season's Greetings or any other specific way, we sure wish you and your loved ones a great time of togetherness, fun and enjoyment.

Wishing you all a Blessed Christmas Holidays and a bright start to the New Year !

Animated Feliz Navidad Gif for Whatsapp, Facebook, Twitter, Instagram, and other messengers
More Related Post Links Below:

1. Merry Christmas GIF with Christmas Tree and Santa
2. Merry Christmas and Happy New Year GIF
3. Merry Christmas GIF with Silent Night Jingle
4. Animated Christmas Gif – 1426
Merry Christmas 2020 !
You may also visit WordsJustforYou.com and HappyNewYearGifs.com for more Christmas and New Year Gifs
You may also visit TheHappyBirthdayGif.com for Animated Birthday Gifs