Animated Happy 4th of July Gif with Balloons Gif for Facebook, Twitter, Whatsapp and other messengers to share with family and friends.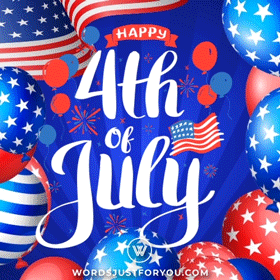 Wish your family, friends and loved ones this 4th of July (United States of America Independence Day) with this Happy 4th of July Gif. Available for download and sharing on personal messengers.Animated USA Flag Gif
Happy 4th of July 2022!
God Bless America!
4th of July Quotes
"Ask not what your country can do for you—ask what you can do for your country." – John F. Kennedy
"Where liberty dwells, there is my country." – Benjamin Franklin
"I like to see a man proud of the place in which he lives. I like to see a man live so that his place will be proud of him." – Abraham Lincoln
More Post Links Below:
1.  Happy 4th of July Animated Wishes – 7681
2.  Bible Verses for 4th of July – 6423
3. Animated Good Morning Sunshine Gif – 2
5. Animated Happy Birthday Wishes Gif – 24
6  Animated Happy Birthday Wishes Candles Gif – 20
7. Animated Happy Birthday Wishes Cake Gif – 22
8. Animated Happy Birthday Wishes Gif with Balloons – 17
9. I Love You Gif
10 Sending Monday Blessings Gif – 1007