Hyvää äitienpäivää Gif
Animated Mother's Day in Finnish Gif with Happy Mother's Day Quotes for Facebook, Twitter, Whatsapp and other messengers to share with family and friends.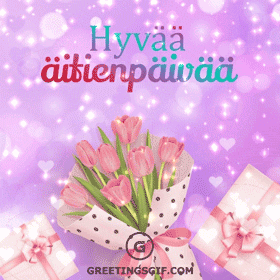 Wish your dear Mom and all motherly figures in your life on Mother's Day with this Hyvää äitienpäivää Gif for sharing on personal messengers and social media. You will also find some Famous Happy Mother's Day Quotes below:
Hyvää äitienpäivää
Happy Mother's Day 2022
100+ Best Animated Mother's Day Gifs, Cards, and Images
Famous Mother's Day Quotes
"All that I am or ever hope to be, I owe to my angel mother."
Quote by Abraham Lincoln
"When you are looking at your mother, you are looking at the purest love you will ever know."
Quote by Charley Benetto
"Mother is the heartbeat in the home; and without her, there seems to be no heartthrob."
Quote by Leroy Brownlow
"It may be possible to gild pure gold, but who can make his mother more beautiful?"
Mother's Day Quote by Mahatma Gandhi
"There is no role in life that is more essential than that of motherhood."
Mother's Day Quote by Elder M. Russell Ballard
"Motherhood is the biggest gamble in the world. It is the glorious life force. It's huge and scary – it's an act of infinite optimism."
Mother's Day Quote by Gilda Radner
"If evolution really works, how come mothers only have two hands?"
Mother's Day Quote by Milton Berle
"A mother's arms are more comforting than anyone else's."
Mother's Day Quote by Princess Diana
"I remember my mother's prayers and they have always followed me. They have clung to me all my life."
Mother's Day Quote by Abraham Lincoln
"If I were hanged on the highest hill, Mother o' mine, O mother o' mine! I know whose love would follow me still Mother o' mine, O mother o' mine!"
Quote by Rudyard Kipling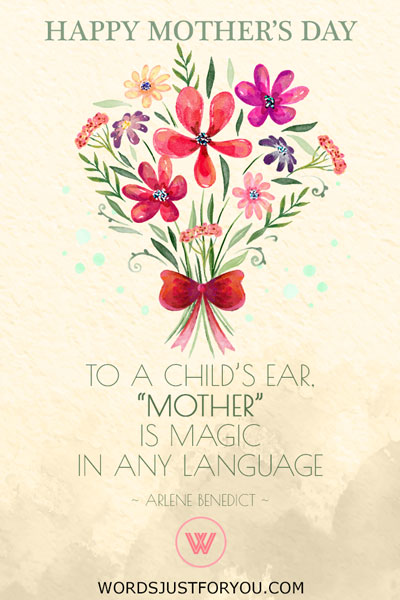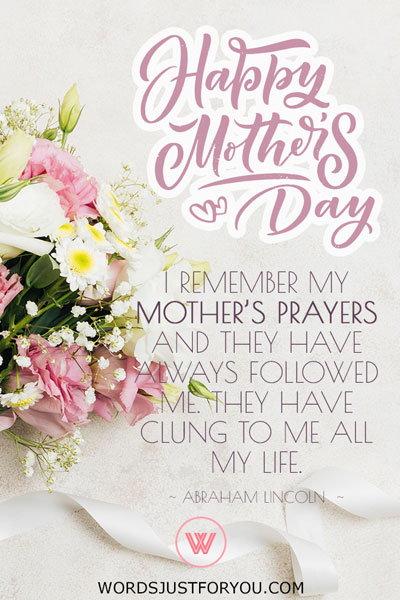 On this Mother's Day, may you have a blessed time of togetherness, peace, prosperity and good health.
Wishing all Mothers a Happy Mother's Day !
More Post Links Below:
© www.greetingsgif.com
Terms of Use
Gifs on this site are protected under DMCA Copyright Laws. You CAN use them to send to family, friends and share on social media sites like Facebook, Twitter and Whatsapp, however, are NOT allowed to share on GIF hosting sites such as Tenor.com, Giphy.com and other websites enabling direct download without coming to GreetingsGif.com original post. Free Download & Sharing for personal use only. You are not allowed to reproduce, redistribute, or republish any content from this website. Please read full Term of Use for more details.